On December 9, 2020, we celebrated International Human Rights Defenders Day in Georgia already for the third time, this time remotely.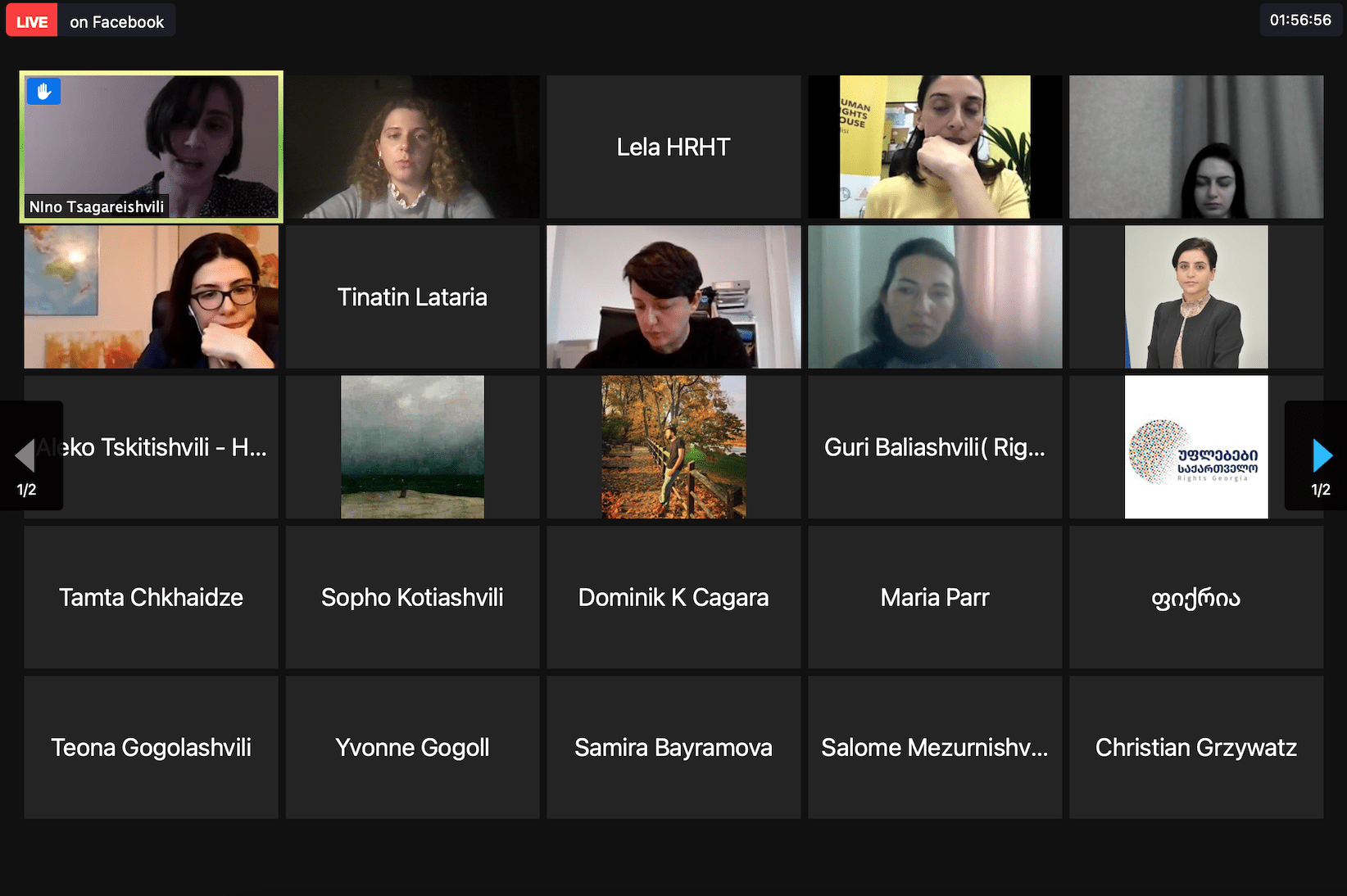 December 9 is International Human Rights Defenders Day. This day recognizes the particularly important role of human rights defenders in the development of society, in democracy, and the strengthening of peace. While there are internationally recognized principles for the protection of human rights defenders, including the UN Declaration on Human Rights Defenders, sadly, facts of harassment and persecution of human rights defenders persist.
The Covid19 pandemic of 2020 has also affected human rights defenders – governments all around the world are using this critical period to restrict and silence human rights defenders.
The participants of the event were welcomed by the Head of the Board of Human Rights House Tbilisi, Baia Pataraia; the Ambassador of the Kingdom of Norway to Georgia, H.E. Helena Sand Andresen; the First Deputy Public Defender, Tamar Gvaramadze and Keti Abashidze (Human Rights House Foundation).
"A serious challenge is that we do not have an appropriate legislation. There is no such thing as a "human rights defender" and we often have problems. For example, when we consider one as a human rights activist, however, governmental agencies do not recognize him/her as an human rights defender. In this case the result is completely different." – said Tamar Gvaramadze, the First Deputy Public Defender.
"Human rights activists are the most courageous people I know. They deserve our recognition, respect and support.  Especially during the Covid19 pandemic, when it affected specific groups harder." – mentioned H.E. Helena Sand Andresen.
The presentation of the thematic report prepared by the Human Rights House Tbilisi: "The Situation of Human Rights Defenders in Georgia – Obstacles and Challenges" was also presented at the meeting.
The report was prepared with the support of the Human Rights House Foundation, within the framework of a joint project of the Human Rights Houses in Tbilisi, Belgrade and Zagreb.
During the event, the discussion were held where the challenges related to human rights defenders in Georgia was discussed. Lela Tsiskarishvili (The Georgian Center for Psychosocial and Medical Rehabilitation of Torture Victims) and Ana Abashidze (Partnership for Human Rights) discussed new psychosocial or other types of problems that human rights defenders faced during the global pandemic.
See the recorded video.
See the report.