We, the undersigned members and supporters of the network of Human Rights Houses, call on the Serbian authorities to support and protect EuroPride 2022 organisers and participants and ensure their safety in the run-up to and implementation of festivities from 12 – 18 September 2022 in Belgrade.
2022 marks the 30th anniversary of the first EuroPride event in London. EuroPride is an important pan-European event celebrating LGBT+ pride. This year's EuroPride is the first to be held in southeastern Europe. It is scheduled to include art exhibitions, film screenings, and discussions and will culminate in a march on 17 September.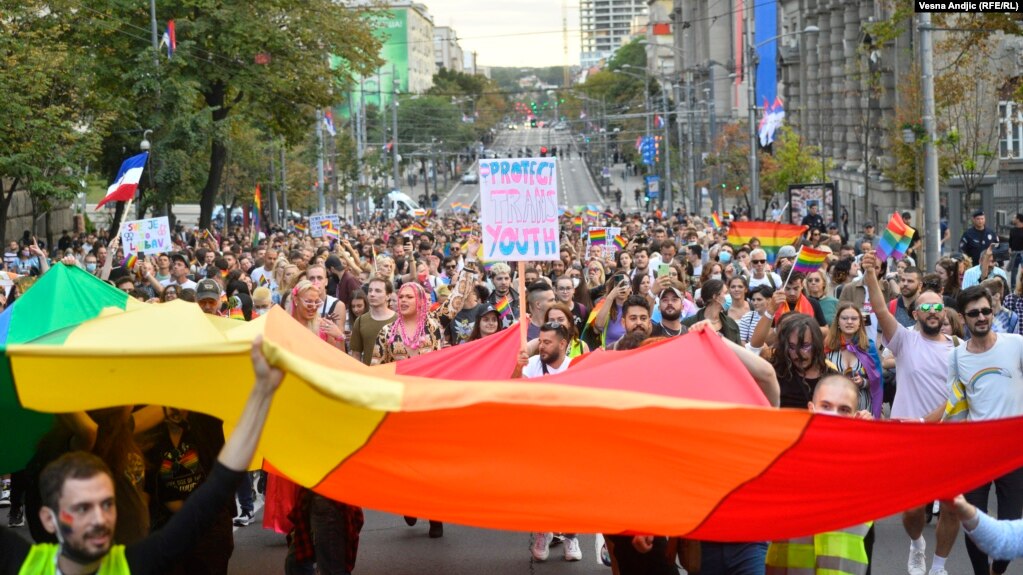 On 27 August 2022, Serbian President Aleksandar Vucic announced that EuroPride would be postponed or cancelled. At the time, he cited competing government priorities and concerns that protesters would disrupt the festival. The President's announcement followed protests by far-right groups, including those aligned with the Serbian Orthodox Church, against the planned festivities. While these groups have the right to peacefully assemble and protest, they use such opportunities to spread an anti-human rights and anti-civil society agenda.
The agenda promoted by the far-right and certain religious groups in Serbia is the latest example of a trend across the Balkans, Eastern Europe, and the Caucasus which threaten fundamental freedoms. It is based upon a misconstrued traditional values narrative, introduced by Russia to the UN in 2009, which opposes the universality of human rights. It is projected through governments and non-state actors, such as Christian Orthodox Churches and radical far-right groups.
In Georgia, far-right, nationalist groups, their leaders, and ranking representatives of the ruling party have sought for years to reject the rights to freedom of expression and assembly of the LGBT+ community and their supporters and defenders. Far-right campaigns have been run in Armenia, falsely accusing human rights defenders of bogus crimes. In Russia, far-right and nationalist groups as well as the Russian Orthodox Church (Moscow Patriarchy) have long supported efforts by the authorities to stamp out dissenting and opposition voices.
Serbian authorities have the responsibility to adequately protect the LGBT+ community and their supporters and defenders in the exercise of their human rights. These rights include the freedoms of assembly and expression. The possibility that a peaceful assembly might provoke adverse or even violent reactions from some members of the public is not sufficient grounds to restrict the freedom of assembly. The state has the obligation to put all required protective measures in place and restrain aggressive counter-demonstrators, instead of banishing the peaceful march. We call on the Serbian government to:
Facilitate and protect the full and unhindered exercise of the freedoms of expression and assembly of EuroPride participants;
Enable safe and secure space for LGBT+ community and their supporters and defenders
Ensure the safety and health of all EuroPride participants
Support EuroPride by participating in it's festivities and making high-level public statements
Signed by
B.a.B.e. Be active. Be emancipated. (Croatia)
Barys Zvozskau Belarusian Human Rights House (Belarus)
Belgrade Centre for Human Rights (Serbia)
Centre for Peace Studies (Croatia)
Civic Initiatives (Serbia)
Croatian Platform for International Citizen Solidarity (Croatia)
Educational Human Rights House Chernihiv (Ukraine)
Helsinki Committee for Human Rights in Serbia (Serbia)
Human Rights Embassy (Moldova)
Human Rights House Belgrade (Serbia)
Human Rights House Crimea (Ukraine)
Human Rights House Tbilisi (Georgia)
Human Rights House Yerevan (Armenia)
Human Rights House Zagreb (Croatia)
Human Rights House Foundation (Norway)
Index on Censorship (United Kingdom)
Mental Health and Human Rights Info (Norway)
PEN Belarus (Belarus)
Pink human rights defender NGO (Armenia)
Rafto Foundation for Human Rights (Norway)
Rights Georgia (Georgia)
Sapari (Georgia)
Ukrainian Helsinki Human Rights Union (Ukraine)
Women's Resource Center Armenia (Armenia)