Dashgin Agalarli is a member of the opposition political party MUSAVAT in Azerbaijan. He was criticizing the politics of the President Aliyev for years, for what he was persecuted by the Azerbaijani authorities. Since 2014, Dashgin Agalarli has been living in Georgia together with his son Orkhan Agalarli; Dashgin is seeking refugee status in Georgia.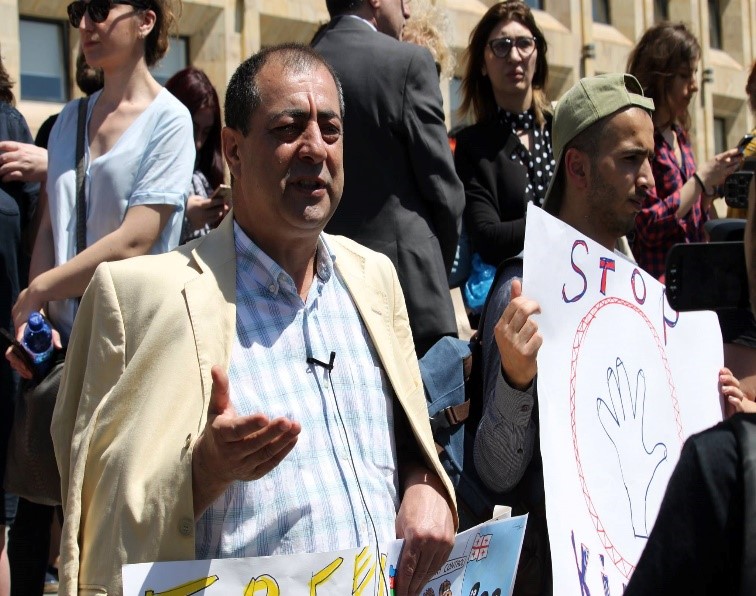 Facts with regard to Dashgin Aghalarli's case
In 2013, due to politically motivated persecution – arbitrary detentions, threats to his life, Aghalarli left Azerbaijan; He was sheltering in Turkey and Ukraine for one year;
During his stay in Turkey, Dashgin was informed that Azerbaijani authority declared him wanted for the charge of alleged invasion from the payment of taxes, Dashgin had to leave Turkey too;
In 2014, Dashgin arrived in Georgia but since he was sought by International Police, he was arrested at the border. Khelvachauri district court in Georgia sentenced him to 3-month extradition imprisonment.
With the legal advocacy of the HRHT member organization, Human Rights Center, Aghalarli applied for the refugee status in Georgia and he was released from prison.
Meanwhile, his son Orkhan Agalarli also arrived in Georgia, who was also persecuted in Azerbaijan because of his father's activities. Orkhan applied for the refugee status in Georgia.
On October 30, 2015, the Ministry of Internally Displaced Persons from the Occupied Territories, Accommodation and Refugees of Georgia (Ministry of Refugees) refused Dashgin and Orkhan Aghalarli to grant
refugee status in Georgia claiming that their stay in Georgia contradicted the state interests and public safety;
With the support of Human Rights Center Dashgin Agalarli appealed the Ministry's decision at the court.
In June 2016, the Tbilisi City Court fully satisfied the claim of Dashgin and Orhan Aghalarlis – annulled the decision of the Ministry of Refugees and ordered the Ministry to grant the refugee status to the applicants.
Afterwards, the intimidation and psychological oppression on Dashgin Aghalarli intensified: in September 2016, different persons tried to communicate him, who presented themselves as representatives of the Georgian MIA and the State Security Service. Officially, both state agencies refuse to have attempted communication with Aghalarli.
The Ministry of Refugees appealed the decision of the first instance court. As a result, the Tbilisi Appeal Court, based on the conclusion of the Counter Intelligence Department, annulled the judgment of the first instance court and refused the Aghalarli to grant refugee status.
With the above decision of the court, all domestic remedies have been exhausted. Consequently, Dashgin was under the threat of being deported to Azerbaijan.
With the legal support of "Human Rights Center", Dashgin plans to appeal the European Court of Human Rights.
Currently, with the legal advocacy of Human Rights Center, the Migration Department of the Ministry of Internal Affairs of Georgia issued temporary identification cards for Dashgin Aghalarli and his son, based on what they will no longer be expelled from Georgia.
HRHT and its member organization Human Rights Center continue support and legal advocacy on the case of Dashgin Agalarl and his son.
The member organizations of the Human Rights House Tbilisi are:
Article 42 of the Constitution
Caucasian Centre for Human Rights and Conflict Studies (CAUCASIA)
Georgian Centre for Psychosocial and Medical Rehabilitation of Torture Victims (GCRT)
Human Rights Center
Media Institute
Sapari